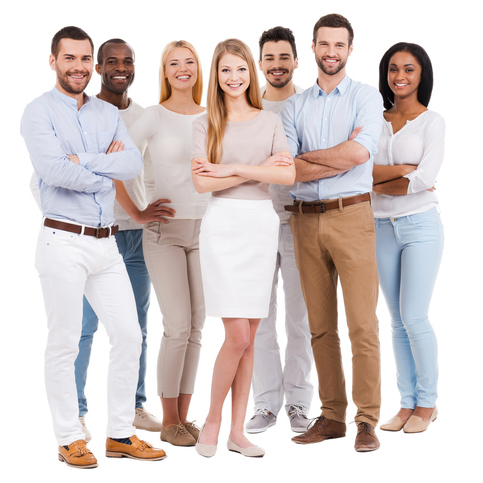 Team Building in the Workplace
Though team building may seem more fitting for a comedy television show or comes off downright lame to your employees, never underestimate the power of teamwork. Similar to the saying, "A family that breaks bread together, stays together," a team that stays engaged, trusts one another, and collaborate successfully become the foundation on which success is made.
The Importance of Team Building
A leader cannot triumph against the odds of those supporting him or her are not working alongside one another productively. Team building is a method to foster open communication between employees throughout the corporation, from the top-brass to the modest custodian. Team building improves relationships, establishes a sense of trust, and generates cooperative thinking. It takes a lot of work to bring people together, but when you select appropriate activities and events, you start off right.
Thinking of this financially, do not think of team building as a expense or splurge. Consider it one of the most advantageous investments you can ever make.
Team Building Exercises
Relationships are built throughout the day, everywhere you go. Consider the work environment similar to a social gathering, where every second offers a chance to build commonality between others.
Hold feedback sessions and group discussions. These can be done in both formal and informal settings. Invite members of one department or several to gather around at a restaurant in the meeting room to discuss ideas, offer constructive criticism on overall performance, and brainstorm. Allow employees to speak their minds freely, and they will feel like a valued part of the team.
Encourage employees to play games outside of their comfort zone. Whether it is Jenga in the conference room or friendly competition about who can do an x-task faster than the others, these "games" promote a sense of fun. When people are laughing and working together to achieve something, they learn much more than they would in silence.
Go on outings outside of work. Aside from games at the workplace, bring members to concerts, take them to dinner, or have the entire team go parasailing. This allows for comfortable interaction as well as the cultivation of supportiveness.
Do something "just because." Call for a random break time or even bring in, for example, a corporate yoga teacher. Such random events keep the positivity level high, generate excitement, and give employees something to do and talk about together.
Have employees create a "life goals" list that can be shared over a company-run app or Cloud service. This allows people to find other employees with similar interests, converse, and share life experiences. Discussing hopes and dreams are how friendships are made, after all. Plus, it gives management ideas for unique continuing education ideas, company events, and other ways to tap into their workers' extensive knowledge base.
Acknowledgement and Rewards
As the team begins to build and the bonds get stronger, it is the leader's responsibility to acknowledge and reward the efforts. Employees will generally put a lot of effort of getting to know one another and create a pleasant work environment. However, if the leader is not actively engaged with this team building effort, morale will drop. Allow people to feel like they are making a difference or have done something worthy of praise.
The pace of life is so fast anymore that sometimes things go unnoticed by the group, potentially weakening links. So take moments throughout the day to simply admire the beauty of even small achievements.
Team building is not only a critical component, but a series of building blocks for triumph. Never ignore the power of relationships and connection in the workplace. From increased productivity to job satisfaction, team building is a major component in every type of occupation.
Learn something new?  Every Client with Payroll Services LLC is part of our ThinkHR network providing news and updates just like this.  www.psllc.payrollservicesllc.com
Related Posts